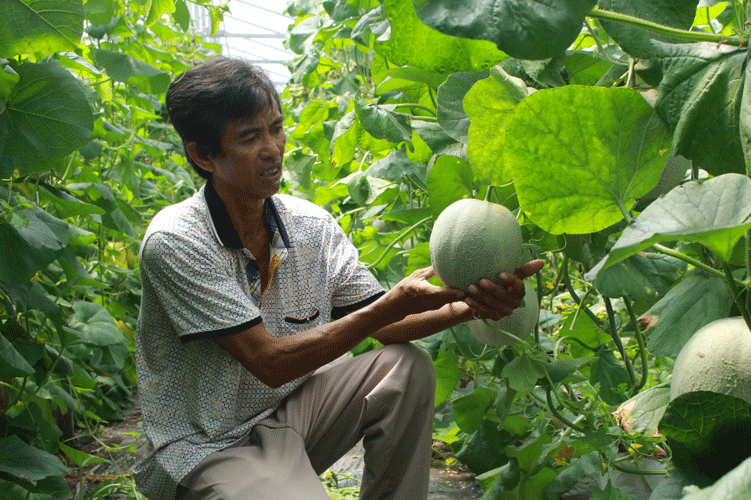 Vo Van Trung has become the first person in his village to go high tech and introduce modern facilities on his farm.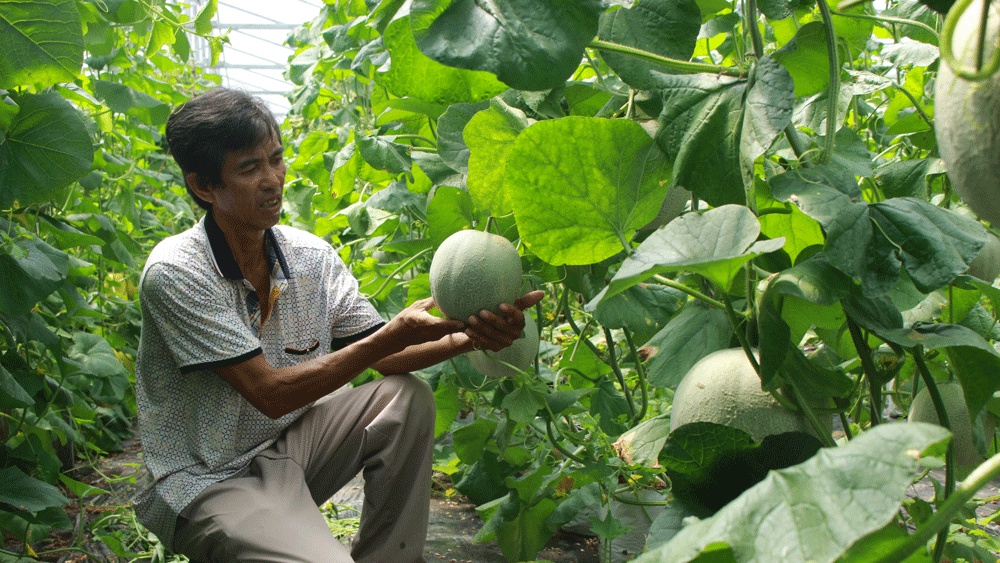 Trung has given up producing rice and is now growing fruit. He has spent VND700 million (US$30,400) in 2015 to build a greenhouse system over 2,000sq.m to grow cantaloupe melons. But business was so good he expanded creating an extra 1,000sq.m of greenhouse area.
Trung, lives in Tan Long B Village, Binh Thanh Commune, Phung Hiep District in the southern province of Hau Giang. Trung harvests four times per year. His profits made up more than 70 per cent of the total takings.
So far many models of agriculture applying high technology have been successful. In the Cuu Long (Mekong) Delta, , a smart watering system is applied in Can Tho City and Ben Tre Province and the model of rice and shrimp crop rotation is applied in Ca Mau, Bac Lieu, Soc Trang and Tra Vinh provinces. Associate professor Le Anh Tuan, from the Can Tho University, said modern production could not be successful and sustainable without close coordination between the State, scientists, enterprises and farmers. He added that agricultural production needed an integration of six sectors including mechanics and automatic, meteorology and hydrology, biotechnology, chemistry, preserving and processing agricultural products, finance, business administration and information technology.
Smart agriculture
Hau Giang Province has conducted different measures to change chemistry agriculture into organic agriculture, and apply modern science into production to help the environment and improve living standards for local farmers. The province founded an agriculture applying hi-tech centre in Long My District covering an area of 5,200ha. It plans many policies to support farmers and investors in the future. Le Tien Chau, chairman of the Hau Giang People's Committee, said the province is aiming for a green and smart agriculture network. The province focused on giving guidance to change old working habits helping local farmers adapt to changes in the Industrial Revolution 4.0. Chau said setting up a high-tech green agriculture model was an urgent duty that was suitable to the province's natural condition.
Farmers played the most important role in the process, said Chau.
"The farmers should have aspirations to enrich themselves and hope for success. They should change their awareness and habits based on guidance from experts, scientists and management offices," he said.
The farmers should not hesitate to learn new things, and should be active in studying hi-tech science.
Tran Chi Hung, director of the provincial Department of Agriculture and Rural Development, said the department was teaming up with institutes, enterprises and universities to give training to the work force, and help local farmers apply hi-tech science into their work.
Associate professor Nguyen Duy Can, an expert from the Can Tho University, said the province should renew policies on investment, and call for more investment for goods which apply hi-tech.
The province should also give priority to training workers, and support enterprises and individuals who want to develop green agriculture.
Comments are closed